Ask the button badge maker!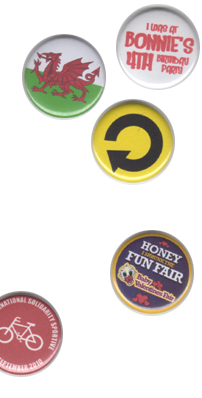 What are your button badges made of?
We only use traditional button badge components made in the UK. A number of companies supply badges with plastic components, but we only use traditional metal components that look and feel like a true button badge should. The main body of the button badge is metal as is the pin. The only non-metal parts we use are for your artwork (paper) and the protective coating that covers the badge (very thin plastic). If you ever owned a button badge in the 1960s or 1970s, chances are the very same components were used then that we use today!
How big are your badges?
Our badges are the size of a button - hence our name! We only make badges that measure one inch (1") or 25mm in diameter. That's the size of a 10p piece.