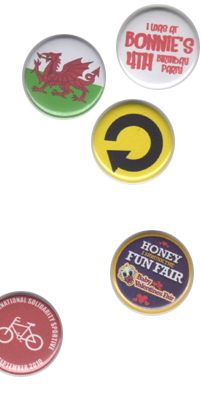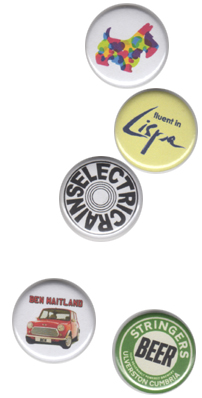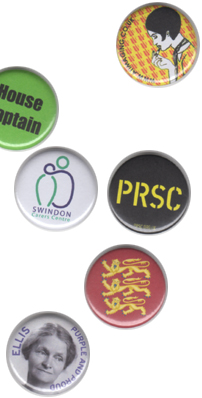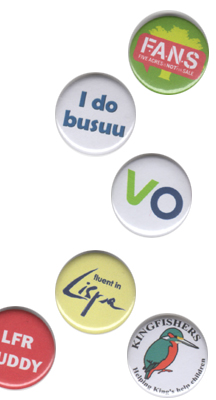 Ask the button badge maker!
What are your button badges made of?
We only use traditional button badge components made in the UK. A number of companies supply badges with plastic components, but we only use traditional metal components that look and feel like a true button badge should. The main body of the button badge is metal as is the pin. The only non-metal parts we use are for your artwork (paper) and the protective coating that covers the badge (very thin plastic). If you ever owned a button badge in the 1960s or 1970s, chances are the very same components were used then that we use today!

How big are your badges?
Our badges are the size of a button - hence our name! We only make badges that measure one inch (1") or 25mm in diameter. That's the size of a 10p piece.

How quickly will you make my badges?
We always do our best to turn badge orders around as quickly as possible. In most instances your badges will be on their way to you within a week of us receiving suitable artwork and payment from you. We do offer three delivery services including EXPRESS with delivery within 48 hours.

Relax - delivery within 10-14 days, often sooner
Standard - delivery within 4-7 days
Express Lifesaver - delivery within 24-48 hours

We will always do our best to help you out of a difficult situation!

What do I need to supply?
We make badges to your design so all we need from you is the artwork that you want to appear on the badge. We do everything else and then deliver completely finished pinned button badges ready for you to sell or give away.

Will my artwork be suitable for a button badge?
We have created a page with information about how to prepare your badge artwork.

I don't have any artwork - can you help?
If you want something simple - for example words only on a badge such as SAVE OUR SCHOOL - we can help you. We can do this for you free of charge. We recently did a simple but very effective Save Our School badge by printing black on brightly coloured fluorescent paper.

If you have a logo or picture and just need text added, we can help out too. Again, at no extra cost.

How can I pay for my button badge order?
Full details are on our ordering page, but payment must accompanying your order - we can't start work on your badges until payment has been received.

You can pay securely online with any major credit card or debit card. We use Paypal to process all credit card orders so we never actually have access to your credit card details.

Alternatively, if you are in the UK we accept cheques payable to Rhona Marshall or you can pay by bank transfer.

We appreciate that schools, colleges, and councils do not always have the ability to pay without an invoice being raised. This isn't a problem. If you can supply an official purchase order, we can invoice you when sending your badges so no delays!

If I order 250 button badges will I really get 250 badges?
We count out your order when it's printed, made, pinned and as it is bagged up ready to be sent, so you will always get the badges you paid for. No matter how many badges you order, we always print extra so that we can discard any badges that are damaged during the making process or are unsuitable (off centre for example). We always end up making a few extra badges and we put them in your bag along with the ones you have paid for. This gives you extra value for money, and if a rogue badge does slip through the additional badges more than make up for it.

If I want to order five different badges of 100 each do I pay the price for 500 badges or do I have to pay for 5 x 100 badges?
Every design requires the same amount of pre-production work and so prices are per design, but where possible we will offer discounts for multiple designs!

Order 100-250 badges and you can have up to two designs at no extra cost.

Order 300 or more badges and you can have an extra design per 100 badges ordered (so for example, order 500 badges and you can have up to five different designs at no extra charge, order 1,000 badges and you can have up to ten different designs at no extra charge).

How do you send badges?
Badges are packed in clear plastic bags and then sent in a padded envelope or box so that they aren't damaged in transit. Very large orders are delivered by courier, but most orders are sent by first class post and will normally require a signature on delivery.

How will I know my badges have been sent?
We will e-mail you the same day that we despatch your badges. Or if we're really busy we'll get the badges sent and e-mail you the next day ;-)

What about . . . ?
If you have any other questions or queries, please email us and we will do our best to answer them.


return to our home page


Quick Badge Links
Schools
Clubs
Campaigns
Events
I Love NY Style
Weddings
Bands
Plain Colours


R Marshall T/A Button Badges
© buttonbadges.co.uk 2015. All rights reserved.