"I just wanted to say thank you so much for making sure I got the badges by the weekend. They caused great delight at the party we were djing at - and they look fantastic!"
Ruby Rocks

"My badges arrived yesterday, and I am really pleased with them! You were right about changing it to white, it does look a lot better than the one with black writing."
S West, Leics

"I just wanted to thank you for the badges - they're perfect and I really appreciate how fast you got them here!"
Anna H, Derbyshire

"Just got the badges. They are fantastic. Thank you for the quick delivery."
Petra H, London

"Thanks for the badges - they are just the job!"
Matt, Bentworth 2007

"A quick thank you for the rapid service and great badges - the kids love them! Nice touch with the tie motif too."
Abigail Walker, Pimp My Tie badges for Red Nose Day

"Badges received yesterday and are already going like hot cakes!"
Barry, Save Bedford Hospital Campaign

"I received the badges this morning. They came out really well. Thanks a lot for your extremely quick service."
Gav P, Dublin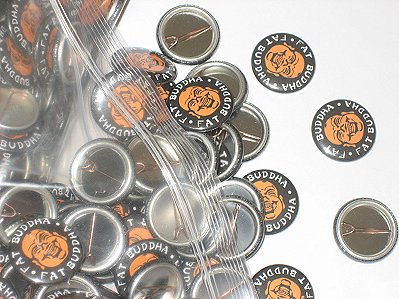 Who are buttonbadges.co.uk?
buttonbadges.co.uk is a family run business that makes button badges to customers' own designs. This gives us a lot of flexibility when it comes to turning orders around quickly and making sure we produce quality badges time after time - and yes we have sat up all night to finish an order so that a band had their badges in time for them leaving for a European tour! We have been making button badges since 1988 and are proud to be button badge makers!

What are your button badges made of?
We only use traditional button badge components. A number of companies supply badges with plastic components, but we only make traditional one inch badges that look and feel like a true button badge should. The main body of the button badge is metal as is the pin. The only non-metal parts we use are for your artwork (paper) and the protective coating that covers the badge (very thin plastic). If you ever owned a button badge in the 1960s or 1970s, chances are the very same components were used then that we use today!

How quickly will you make my badges?
We always do our best to turn badge orders around as quickly as possible. In most instances your badges will be on their way to you within a week of us receiving suitable artwork and payment from you. Badges are made on a first come first served basis so the sooner you get your order to us, the sooner we can start work on it and the sooner you will get your button badges! If you need your badges urgently please e-mail us with your requirements so that we can give you an idea of how quickly we can do them for you.

We will always do our best to help you out of a difficult situation!

Here's what happened today (well it was today when I wrote this in 2006!). Wednesday the 28th 5pm, a band contacted us to say they were going to Holland and needed 150 badges for Tuesday. Could we do it? Of course we could. Their badges were made this morning and sent by first class recorded delivery. Wednesday morning another order had arrived for 150 badges so that was already pending, and knowing we were closed for two weeks at the start of the next month the customer had said they could wait for their badges if necessary. We printed them Wednesday evening, made them this morning and sent them by first class recorded delivery too.

The moral is nobody jumps the queue - we just work harder (and later!) for rush orders and if anyone can deliver badges at very short notice we can! Remember though, at peak times we won't always be able to squeeze you in - there are only so many hours in a day - so please plan ahead!

Remember too, we now offer an Express 48 hour service as well as standard and relax services.

What do I need to supply?
We make badges to your design so all we need from you is the artwork that you want to appear on the badge. We do everything else and then deliver completely finished pinned button badges ready for you to sell or give away.

Will my artwork be suitable for a button badge?
We have created a page with information about how to prepare your badge artwork.

I don't have any artwork - can you help?
If you want something simple - for example words only on a badge such as SAVE OUR SCHOOL - we can help you. We can do this for you free of charge. We recently did a simple but very effective Save Our School badge by printing black on brightly coloured fluorescent paper. If you have a logo or picture and just need text added, we can usually help out!

How can I pay for my button badge order?
Full details are on our ordering page, but payment must accompanying your order - we can't start work on your badges until payment has been received. You can pay securely online with any major credit card or debit card. We use Paypal to process all credit card orders so we never actually have access to your credit card details. Alternatively, if you are in the UK we accept cheques or postal orders payable to George Marshall. If you are overseas, please e-mail us if you would like to pay by pounds sterling money order or bank draft (sorry we do not accept dollar checks or dollar money orders).

If I order 250 button badges will I really get 250 badges?
We count out your order as it is bagged up ready to be sent, but you will nearly always get a few more than you paid for. That's because no matter how many badges you order, we always print extra so that we can discard any badges that are damaged during the making process or are unsuitable (off centre for example). We always end up making a few extra badges and we put them in your bag along with the ones you have paid for. This gives you extra value for money, and if a rogue badge does slip through the additional badges more than make up for it.

If I want to order five different badges of 100 each do I pay the price for 500 badges?
Every design requires the same amount of pre-production work and so prices are per design, but where possible we will offer discounts for multiple designs! Order 100 or 250 badges and you can have up to two designs at no extra cost (for example order 100 badges and you can have two designs if required, 100 badges total) order 500 or more badges and you can have up to five designs at no extra cost (for example order 1000 badges and you can up to five designs if required, 1000 badges total).

How do you send badges?
Badges are packed in clear plastic bags and then sent in a padded envelope so that they aren't damaged in transit. Very large orders are then delivered by courier, but most orders are sent by post and will require a signature on delivery.

How will I know my badges have been sent?
We will e-mail you the same day that we despatch your badges. Or if we're really busy we'll get the badges sent and e-mail you the next day ;-)

What about . . . ?
If you have any other questions or queries, please email us and we will do our best to answer them.