Welcome to Button Badges!
Quick Links
ARTWORK
PRICE LIST
HOW TO ORDER
FAQ
CONTACT US

We are a family run badge business specialising in 25mm badges (one inch in old money) and in small quantities from 20 to 1,000 (although we do cater for orders up to 3,000 badges). And by popular demand, we have now added a 150, 300 and 600 quantity.

We have ben making button badges for over 25 years now and we still use exactly the same traditional high quality metal components that we did on day one!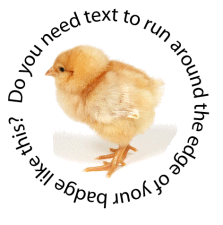 If you need text to run around the edge of your badge, but don't have the software to do it, worry not. We can do it for you here for free!

School Badges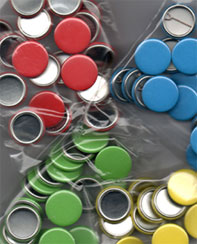 We supply badges to schools all over the UK. So whether you require plain colour badges for use as school house badges or badges saying PREFECT or SCHOOL COUNCIL or whatever, we can help! more

I Love Badges



We agree with Wet Wet Wet. Love is all around. And Eric Carmen. Love is all that matters. When it comes to speading that love, you can't do better than button badges based on the "I Love NY" logo. We makes LOADS of these!! more

Fly the flag!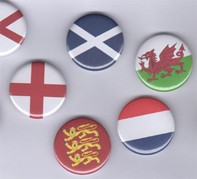 Over the years we have made thousands upon thousands of country specific badges featuring flags. As well as Union Jack badges and ones representing England, Scotland, Wales and Northern Ireland, we've produced badges featuring flags from such exotic destinations as Tibet, Malawi and Haiti! Great for fund-raising and for celebrating saint days! more

The Future's Bright!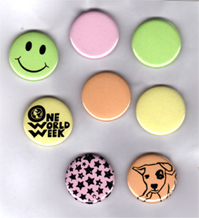 When you really want to make an impact, black artwork on a bright background colour gives maximim punch! That's when we call in the brightest paper we have in orange, pink, green and yellow. Also great as plain badges to identify teams and groups. more

It Must Be Love!



Here at Button Badges, we absolutely love a good wedding! Badges are becoming increasingly popular as both wedding favours and at themed weddings. We like nothing more than playing a small part in making the Big Day that little bit more special. more

Gold, Silver and Bronze Badges


Gold, silver and bronze shiny badges! Perfect as rewards for sports day and aspiring Olympians. more

Edinburgh Fringe Badges
Forgot to order badges for your Fringe appearance? Fear not! We are in Edinburgh two or three times a week during the Edinburgh Fringe, delivering last minute badges! more

QR Code Badges



Traditional button badges with a modern edge! QR Code Badges! Just tell us what web page you want the QR Code to link to, we then create the QR Code for you free of charge, and we put it on as many button badges as you want! Smart phones LOVE 'em! Try scanning the picture of the QR Code Badge above to see just how cool they are! more

Badges We Like
Here's a selection of badges we've worked on recently or have pulled out of the archives that we particularly like for one reason or another.

Wake up the world - one badge at a time



Artist, Mark O'Neill, is a man on a mission. He wants to wake up the world - one badge at a time. What does Mark want you to wake up to? Anything that is affecting the world, from fracking to the bedroom tax to illegal parking charges. Basically, whatever annoys you and wakes you up to what needs changing in our world.. more

Mouthy



It is surprising how much information you can fit on a badge. If you've got a lot to say for yourself, our advice is to keep it simple. Text should be bold and dark - black or dark green for example. The background should provide maximum contrast so white or a pale yellow works well. more

Childhood lost



Every badge can tell a story. The one above is of a little Peruvian girl who was photographed by French fashion photographer, Richard Mar. He travelled around Peru and took photos of kids who are the breadwinners for their families. The badge itself is based on an illustration by Bournemouth art student, James Majowski, and his attention to detail and the beauty of the artwork really blew us away. more
Power to the people!



It was more a case of man the pubs than the barricades when the former town of Cliffe in Sussex declared independence on the May Bank Holiday this year. A president was elected, a new flag was hoisted and a traditional team game involving a damp beer towel (don't ask!) took place in the Brewery Yard. And of course, to commemorate such a prestigious day, button badges were made. "Thanks for the badges," said Clare at hrs graphics. "They were really well done and very popular. more
The devil is in the detail!





Santa Dog. Do band names come any better than that? Santa Dog. And not just a great name either. The badge design was beautiful too. The picture on this page just won't do it justice, but believe me when I tell you it was, well, top dog. "Got the badges today and they're gorgeous!", said the band's guitar-slinging vocalist, Rowena. "You've done a wonderful job on them, thanks so much. Hopefully we can put a repeat order in soon." more

Book launch?





You'll be as surprised as we are to know that we have never once been named in the Queen's Honours List for our services to button badges. Seriously, we haven't. But we have gone one better. We were made "honorary Maplin's Yellowcoats" for producing badges to help promote Rob Cope's forthcoming book on the classic TV comedy series, Hi-De-Hi!, called Hello Campers!. "They are perfect," said happy camper, Rob. "I couldn't have wished for a closer match to my original idea." Ho-de-ho! more

The future of rock n' roll?





Not surprisingly we've made thousands of badges for bands of every description - punk bands, ska bands, brass bands, rock bands, pop bands, thrash metal bands. In fact you can't even call yourself a band unless you have a button badge to your name. One of our favourite badges features musician Elia Rulli with the image taken from a crumpled photo of him as a three year old kid complete with a massive afro. As cute as they come. "They are perfect and bizarrely in-demand," said Elia. "Thanks a lot. I'll be ordering more the moment I run out." more


For more examples of some of the button badges we have made, visit our Button Badge Hall Of Fame.

Find out more about the history of badges here

Please note - we make traditional metal badges using British components that haven't changed for decades. We don't make badges with cheap plastic components or imported parts.

Because badges have pins to secure them to a jacket, jumper or whatever they are not suitable for small children.

Ordering badges is this easy!

1. Send us your design buy email or post
2. Fill in our order form, select quantity and payment method
3. Sit back and relax!

1. Send us your design
We will put your logo, slogan, individual design artwork onto high quality badges.
Either email us your design or send it to us by post.
If emailing it or sending it on disc we preferPhotoshop .psd files, but can work from .jpg, .tiff, .pdf, Word files, paint shop (.psp) and more.
Ask if you need help. Artwork does not need to be huge - twice actual size is ideal.
If posting your design, send a CD-ROM or floppy disc for a PC (sorry we don't use Macs) or send it on paper protected by card so that it doesn't get bent on folded en route.
Don't have a badge design? If you need something simple, like text only on a badge for example or your logo with text added, we can do it for you here at no extra charge.
Need more information about badge artwork? Click here!
Want to order your badges now? Click here!


2. Fill in our order form, select quantity and payment method
Our standard quantities and prices are on the badge price list page.
The price you see is the price you pay if you're in the UK.
Choose from our three services - relax, standard and express.
No set up charges, no delivery charges, no extra charges whatsoever.
You can order online - simply select the quantity you require and pay your money! Our online credit and debit card transactions are processed through Paypal for your online security and we can accept Visa, Mastercard, American Express, Switch and Solo. We have been Paypal verified since 2001.
Or you can pay by bank transfer or send a cheque or a postal order (UK only) payable to
George Marshall to buttonbadges.co.uk, PO Box 26272, Hamilton. ML3 9WZ. UK.
Need more information about payment options? Click here!
Want to order your badges now? Click here!



3. Sit back and relax!
Once artwork and payment is received we will then add your order to our schedule and get your badges to you as quickly as we can. Delivery times vary depending on time of year and how busy we are, but if you've a deadline to meet please ask and we'll tell you whether we can meet it. Otherwise expect your badges within the times given for your chosen delivery service (relax, normal or express).





We don't just make badges.
We make customers happy!

"Badges arrived safely this morning and I am so pleased with them. Thanks for all your help and for such a speedy and efficient service."
Carol, Moorside

"Would like to thank you on behalf of the Granite City SC for the great service and badges you have provided us - hopefully we will be able to use you again in the near future."
Bill, Granite City Scooter Club

"Just a quick note to thank you so much for the badges. They look amazing. You are awesome!"
Pete C, Manchester

"Just a brief message to say thank you very much for the superb job you've done on our badges – better then we'd hoped for and with such a speedy service, we'll be sure to order more from you in due course."
Ian Cunningham, The Northern Line

"We received the badges today and they are FAB! I've been dishing them out all over the office telling them about you! Thanks :)"
Carly, NCS

"Just wanted to say a big thanks for getting the badges sorted so quickly."
Andy, Jimmy Dammage

"Badges arrived safely this morning and I am so pleased with them. Thanks for all your help and for such a speedy and efficient service." Carol, Moorside

"They are fantastic! Thank you so much.
The service you offer is amazing."
Karon, University of Edinburgh

"The button badges are brilliant!
Thanks very much for the quick turn round."
Steve, The Move-Ons

"I'm sure I've said this before, but you guys are great!
Thanks for the speedy turnaround."
Debbie, minx-girl.com

"Just got badges! Thanks a lot guys -
they look almost too good to give away!!!"
Tony, Land of 1000 Dances

"Just received the badges! They look fantastic (and thank you for the 10 extra pink). You guys are absolutely brilliant for doing this at such short notice, couldn't have asked for anything more."
Gavin, Chelsea College

"I just wanted to let you know that the buttons are fantastic, thank you so much for your help and quick delivery."
Sonja, Dartford

"They look fabulous and our whole team is very pleased with them. I have recommended your company to our fund raising team for future campaigns."
Jo, Countess of Chester Hospital NHS Foundation Trust

"I got the badges for the LWC Facebook Group today and they're fantastic! One problem - when I ordered them I thought 50 would be enough! Silly me - ever since the word got round, people have been coming out of the woodwork for them."
Derik, LWC

"Thanks so much, received them yesterday :) I will certainly be using you guys again, they look great!"
Becky, Bang Parties

"I just wanted to say thank you very much for the badges, they were received safely over the weekend - they are fab. Thank you again - now I just have to finish my project!"
Beth, London
If we had a pound for every student that needed to finish a project :-)

"Just a quick note to say 'THANX'. Very impressed with the quality of the badges, the speed of delivery AND for keeping me informed throughout!
Will be back for more soon."
Grant, Rosewood

"Just wanted to let you know that the badges are great - they will add a lot of fun to my girlfriend's 30th birthday party! You provided a really, really fast turnaround and very friendly service."
Steve, Chorley, Manchester

"The badges arrived on Saturday and are even better than the sample, I am totally happy with the purchase, the black ones are stunning."
Stuart, Red Dice Games

"My badges have arrived, they are absolutely perfect, just what I hoped for. Excellent service, thank you :)."
Sophia, Somerset

"Just to say, the badges arrived this morning, thanks very much for the great service."
Laura, Itchy Feet

"Just a note to say that we think the badges are excellent. We and the girls are really pleased with them. Thank you for sending them so quickly and we will be back for more next time!"
Piers, Cheltenham Ladies College

"Thank you for your prompt service and excellent product. Everyone here is more than happy with what you have produced. I fully endorse your badges and will be in touch in the future for more."
Kev Short, RAF

"Can I just say how pleased we all are. The badges are very cool."
Marc, Ealing Club.

"I just wanted to say a HUGE thank for our badges, they look fantastic and I have no doubt they will sell like hot cakes and help us raise more money for charity!"
Louise, V-Day, Kingston

"Badges arrived safe and sound, excellent job!
Many thanks for the swift and professional service."
Dave Coleman, Tarrington Brass Band

"I've got your button badges yesterday and they are great exactly how I wanted them - many thanks to you guys and for your hard work!"
Derya, Germany

"Great badges - thanks man!"
Dan Baldwin
(check out Dan's work at DanBaldwinArt.com)

"Our Spencer Rocks and Ruby Rocks badges have been an enormous success, thank you!"
Ruby, International Hi Fi

"The badges sold like hotcakes! I may be able to get some further business for you in coming months, hopefully a large order - I forwarded your contact details to a friend, recommending your business. Thanks again."
Leon, CBRD

"Just got the badges! Thanks a lot guys -
they look almost too good to give away!!!"
Tony, Land Of 1,000 Dances

"Thanks for the badges which I received today. One small problem - you've confused the rabbit with the hare! Probably because I sent 7 different animals it's easy to mistake but the rabbit was the smaller bunny-like thing which I've received rather than the hare which has longer ears and legs and is standing upright. Will it be possible to get the 25 badges of the hare? We are, after all The March Hares!
Great job on the others by the way!"
Josh, The March Hares

Okay, we included Josh's quote to let you know that we're not perfect, but will always try to remedy any problems. This order was for a set of four different animal badges. To solve the problem we first suggested that Josh change the band's name to The March Rabbits :-), but with that option ruled out we got the correct badges straight off to him. When it comes to customer satisfaction, we don't split hares!