Fly the flag with a
one inch button badge!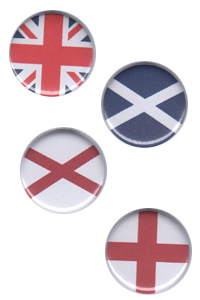 Here at Button Badges, we make lots of one inch (25mm) flag style country badges for schools and other organisations.




For example we have made Tibet flag badges for a school in England, Malawi flag badges for a school in Scotland, and we made lots of Haiti badges for schools all over the UK when they were fundraising in the aftermath of the Haiti earthquake.



Our most popular badges are country flag badges for England, Scotland, Wales and Northern Ireland, not to mention badges for St David's Day, St. George's Day, St. Andrew's Day and St Patrick's Day!



We also make a lot of flag badges for schools that offer foreign languages to promote German, French, Spanish, Polish, Italian and Japanese among others.

And increasingly popular are our European Union flag badges.

New for 2017 is our range of county flag badges starting with Yorkshire, Northumberland, Devon and Cornwall.

Basically, if you want any flag on a badge, we can make them! No need for artwork - we can source the perfect flag image for any country in the world.

And if you want something bigger than a 25mm badge, we can make flag badges in three other sizes too - 38mm, 55mm and 76mm..

PS Take a look at our retro style Union Jack badges!

And our "I Love" school subject badges!



return to our home page