We make button badges
to your own design.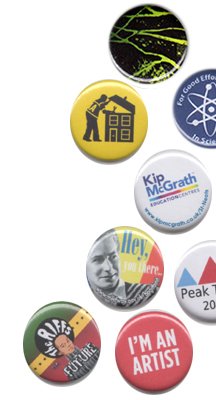 Button Badges
is a family run badge business specialising in making badges in small quantities from 20 to 3,000 to our customers' own designs. This gives us a lot of flexibility when it comes to turning orders around quickly and making sure we produce quality badges time after time.
So what can we offer you? First of all four sizes of badge - 25mm, 38mm, 55mm and 76mm.
25mm badges
The legendary "button badge" and our most popular size. Popular with bands, schools and for events. Available with either a traditional D pin back or safety pin back.
38mm badges
Perfect for when your message or logo won't quite work on a 25mm badge. Come with safety pin back as standard.
55mm badges
Popular with campaign groups and others, it's a big enough badge to pack a real punch. Safety pin back as standard.
76mm badges
Our biggest badge. Nobody misses this one! Safety pin back as standard.

Three delivery speed options.
Standard
The service we started out with over 25 years ago - badges made to your design and delivered to your door in 4-7 days! 
Express
Need your badges in a hurry? Our Express Lifesaver badge service will deliver your badges within 48 hours - and within 24 hours if we can!
Relax
Give 
Button Badges
 up to 14 days to make and deliver your badges and we give you a discount off our standard prices! 
Ordering is really easy!
1. See our
price list
for prices, sizes, quantities and delivery options and add your badges to the shopping cart
2. Fill in the order form so we have delivery details and instructions
3. Pay for your badges
4. Send us your artwork as an email attachment to
info@buttonbadges.co.uk
5. We create a badge proof for your approval and once approved we get busy making badges for you!
Any questions or queries along the way, need us to check your artwork or help you put it together, just drop us an email at info@buttonbadges.co.uk.
return to our home page
Frequently Bought





Sparkling diamond metallic finish badges!
Click Here
New For 2017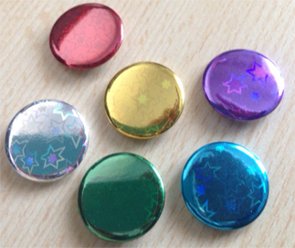 Metallic finish shiny badges with holographic star effect are available in gold, silver, red, blue, green and purple!
find out more