Badges that hark back to 1914 and the Great War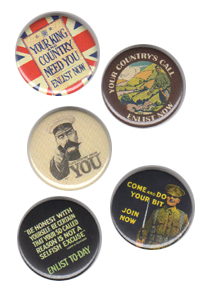 When we were asked to create a set of badges based on posters from the First World War for a school project, we went to work immediately. We saw this as a fantastic opportunity for children to be able to physically connect with their ancestors of 100 years ago.

We settled on five designs that capture the propaganda of the day, urging men to volunteer for war:

1. Your King And Country Needs You - Enlist Now (on a Union Flag)

2. Your Country's Call - Enlist Now

3. Your Country Needs You (classic Lord Kitchener image)

4. Come And Do Your Bit - Join Now

5. Be Honest With Yourself. Be certain that your so-called reason is not a selfish excuse. Enlist today.

All five badges are available to buy in quantities starting at just 20 and any mix of designs can be included with your order. So for example you can order 20 of each (100 total) for £26 with delivry in 8-14 days (faster delivery services available including within 48 hours).

Ideal for all World War One events, not just for schools and museums!


And now available with a choice of traditional D pin or safety pin back.

Email us and ask us about the World War Badges at info@buttonbadges.co.uk!




Order Your 25mm
WW1 Button Badges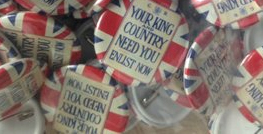 25mm / 1" button badges printed with a various WW1 designs - simply add quantity required to your shopping cart and then state what designs you want on the order form or ask for a mixed bag
on the badge order form when checking out
RELAX SERVICE
8-14 days delivery
Select quantity
then add to cart
Need a bigger size badge or want badges made to your own design? Please contact us at
info@buttonbadges.co.uk
.