Contact us

PLEASE NOTE: due to health reasons, we are now closed until further notice and are unable to take new orders until our return.
We are also not taking orders from new customers so unless you are an existing customer we will not be able to make badges for you on our return. Sorry!
The easiest way to contact Button Badges is by email as we check messages regularly throughout the day.

info@buttonbadges.co.uk

The information we need when you order (instructions, delivery address, etc) is best supplied in writing.

We cannot take badge orders or payment for orders by phone.


Business hours

Monday to Friday 8.30am - 5.30pm

During busy times, we often work Saturday mornings too.


Postal address
We have moved from Hamilton to Hawick!
Our postal address is:
Button Badges
PO Box 13339
Hawick
TD9 1AF
Badge FAQ
Answers to common questions are on our
FAQ
page.
Need help with your artwork? See our
Artwork Help
page or email us what you have and we will be happy to take a look at it.
Do you just want to order one badge?
more
Badge Blog
Check out some of our favourite buttons and catch up on the latest news over at the
Button Badges Blog
.
Ordering is easy

1. See our price list for prices, sizes, quantities and delivery options and add your badges to the shopping cart

2. Fill in the order form so we have delivery details and instructions

3. Pay for your badges

4. Send us your artwork as an email attachment to info@buttonbadges.co.uk

5. We email you a badge proof for approval and then get busy making badges for you!
About us
Button Badges
is a family run badge business specialising in making 25mm badges (one inch in old money) in small quantities from 20 to 3,000 and to customers' own designs. We also make 38mm, 55mm and 76mm badges.
This gives us a lot of flexibility when it comes to turning orders around quickly and making sure we produce quality badges time after time - and yes we have sat up all night to finish an order so that a band had their badges in time for them leaving for a European tour!
Need more than 3,000? Depending on the time of year and how busy we are, we might be able to help you. Email us with what you need!
We have been making "badges the size of a button" for over 25 years (since 1989 to be exact) and we still use exactly the same traditional high quality metal components that we did on day one!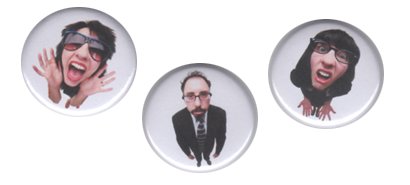 Some companies have moved over to cheaper plastic components, or they outsource production to the Far East, but we say, no way, José! We use only quality British made components and all of our badges are made here in the UK.
We take great pride in what we produce. To be successful, we need you to become a customer for life. You will only do that if you are happy with the badges that you get each time you order.
To see what our customers think of us, please see our
testimonials
page.
And please follow us on
Twitter
!
Our
Privacy Policy
Find out about
the history of button badges
including stuff from before you were born!

Give
Button Badges
up to 14 days to make and deliver your badges and save up to 33% off our standard prices!
more

The service we started out with over 25 years ago - badges made to your design and delivered to your door in 4-7 days!
more

Need your badges in a hurry? Our Express Lifesaver badge service will deliver your badges within 48 hours - and 24 hours if we can!
more