New colours added to our range of plain colour badges!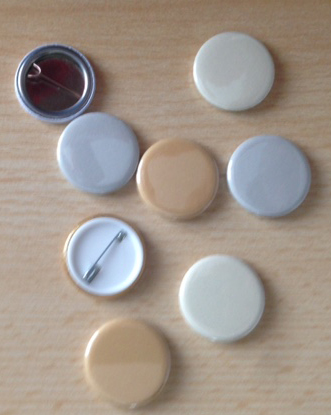 We have a fantastic range of colours available for those looking for plain colour button badges.
We've got your standard red, green, yellow and blue as well as the likes of orange, purple, black, white, and even metallic finish gold, silver and bronze (
full list is here
).
We were working on some wedding badges last week and we quite often use a cream coloured paper stock for the background and then print black or brown on it. Anyway, it occurred to me that we could offer
cream
as a plain colour badge to increase the range of colours available.
Looking through our stock paper drawers I also came across a
caramel brown
and a
grey
so we have added them too.
As with all of our 25mm button badges, our plain colour badges are available with our traditional "D pin" backs or safety pin backs.
And as with all of our plain colour badges, you are welcome to buy a mixture of colours when ordering (full price list for 25mm badges is
here
).
What's more, the grey, caramel and cream can be printed on like most of our plain colours, with black being the best choice for text and logos.
Don't forget, if you want a slightly bigger badge, our plain colour badges are available as
38mm badges
too with a safety pin back.
Any questions? Fire them at us via email -
info@buttonbadges.co.uk
.
blog
return to our home page