Having a class or school reunion?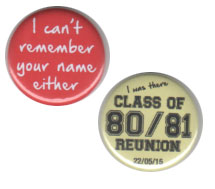 Organising a reunion for your former classmates?
Thanks to Facebook and social media, it's never been easier to get in touch with old faces, but that doesn't mean a great deal of time and work doesn't still go in to planning and organising a school reunion. So if you are one such organiser, we salute you!
Why not make the event extra special by having button badges made to your own design?
We can make badges for you with whatever text you want on them and we can add an image like a school logo too.
If you have finished artwork we can use that or you can let us know what text you want on your badge and we will create the artwork for you at no extra charge.
Drop us an email if we can help!
info@buttonbadges.co.uk
Blog
return to our home page