Holding an event? Shout it from the rooftops with your very own button badge!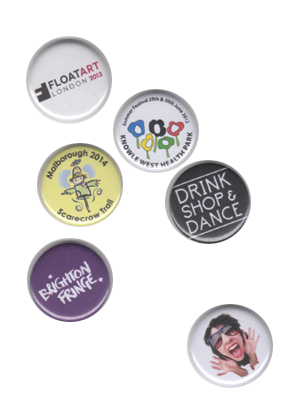 It's hard to believe when you have gone through three coats in a day (the perils of dog walking in the rain), but it is actually British Summer Time! Woo woo!
And that means we get to end our hibernation and venture out once again into the big wide world.
If you are organising an event for later this year, preparations will no doubt be well under way. It's amazing the amount of time and effort, the months of planning and promoting, that go into making an event a roaring success.
If you have button badges on your to do list, that's something we can help you with.
Either send us your artwork or what artwork you have (a logo, an idea for text), fill in the order form and make your payment. Three things and the job's done.
We will then acknowledge your order and email through a badge proof for your approval before we crank up the badge making machines. One approved, we will get busy making your badges and ensuring they are delivered on time. Every time.
If you think you've left it too late, you probably haven't. Most relax service orders are delivered within ten days, our standard orders within 4-7 days, and express orders within 48 hours (often next day, depending on when you order and we get badge proof approval). We are VERY good at helping people out of a pickle whenever we can.
Badges are a fantastic way to promote an event, raise awareness, raise funds and commemorate all your hard work. Like it says further up the page, if you're holding an event, shout it from the rooftops with your very own button badge!
And remember - we make badges in sizes to suit any event - 25mm, 38mm, 55mm and 76mm.
blog
return to our home page