Student Union Button Badges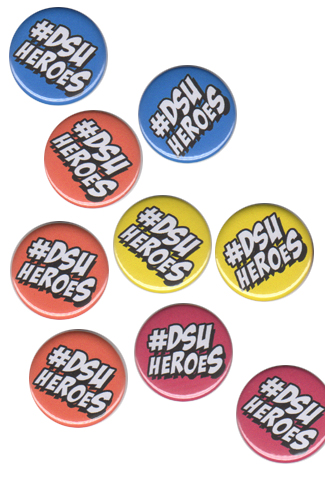 "What do we want?"
"BUTTON BADGES!"
"When do we want them?"
"NOW!"
We're obviously a tad biased, but here at
Button Badges
HQ we think you can't really call yourself a student unless you have a badge or three pinned to your jacket.
On the right are some badges we made recently for De Montfort University's Student Union for their annual elections.
They are a great example of how a bold font really packs a punch when placed on a colour background.
The artwork came as a photoshop file on a transparent background and that made it easy peasy for us to add the four different colour backgrounds.
"Just wanted to say thank you for the badges they look fab!" said Adele of DSU. "We're really happy with them :)"
Glad to be of service!
And if we can be of service to your student union or club or society, you know where we are!
Drop us an email if we can help!
info@buttonbadges.co.uk
Blog
return to our home page