The future's bright - the future's fluorescent badges!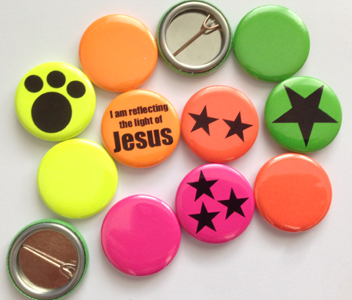 These are the brightest badges we make!
The pictures on this page don't really do these badges justice because they are much brighter in real life!
We use fluorescent pink, orange, yellow and green paper to make them really stand out.
Perfect if you have a black logo or want bold black text on a badge. Great for that "punk" feel.
We can also supply them plain for team and group activities along with other colours (see our
plain colour badges
page).
Also check out our
sparkly "diamond" badges
for added bling!
Any questions? As always
info@buttonbadges.co.uk