Something to say?
Say it with a badge.
We make button badges for campaigns and events all over the UK.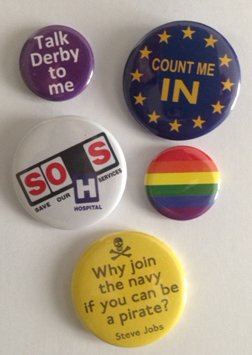 What do we want?
More badges!
When do we want them?
Now!
It's actually quite surprising how much impact you can make with a badge. Give someone a flyer and it will end up in the nearest bin, but give them a badge and they will not only wear it, but others will see your message too!
Badges were made with your campaign or cause in mind so let us help you spread the word!
There really is no better way to get your message across.
Don't underestimate the power of a 25mm badge. People will always wear that size and if your message or logo is short and bold it will reap rewards every time.
It's with campaigns and promotions that bigger badge sizes come into their own too. 38mm badges give you a surprising amount of real estate to play with, as does our 55mm badge. And when you really want to shout, go 76mm every time!
Any questions? As always
info@buttonbadges.co.uk
Button Badges

Blog
return to our home page
Frequently Bought


Sparkling diamond metallic finish badges!
Click Here