Your school logo on a button badge!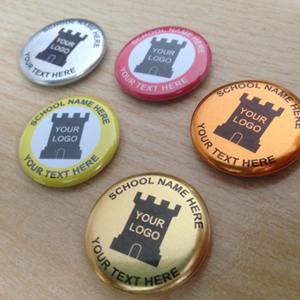 Looking for a set of button badges emblazoned with your school's identity? Then look no further than our school logo button badges!
We can create a badge that is unique to your school - perfect for house badges or indeed reward badges.
Our standard school logo badges put your school's logo slap bang in the middle of the badge. Then we run text around the top and bottom of the badge as required. You could have your school name at the top and your choice of text around the bottom as per the image on the right.
Our gold, silver and bronze metallic finish badges are perfect for reward badges.
And our standard matt finish badges are even more versatile. By printing a colour band around the outside of the logo, you can use them for house badges. Your school name could run around the top and the house name around the bottom.
We can print the outer band in colours to match your houses and would use either black or white text to give the best contrast.
A combination of both would be ideal as a reward scheme with children working through the colours until they achieve a gold badge for their efforts! For something like this we could place a star in the centre instead of a logo.
Sound good? All we need from you is an image of your school logo and the text you would like to go on the badge and we are ready to rock n' roll! We create the artwork here and email you a proof for approval before production starts.
Any questions or want a quote? Drop us an email -
info@buttonbadges.co.uk
.
Please note: If you are ordering on behalf of a school, all we require is an official Purchase Order number. We can then include an invoice when we send your badges rather than you having to pay in advance. Of course you can pay by card or cheque when ordering if you prefer.

PS Check out our ever popular
star times table badges
;-)