Our Times Table Button Badges Are Multiplying!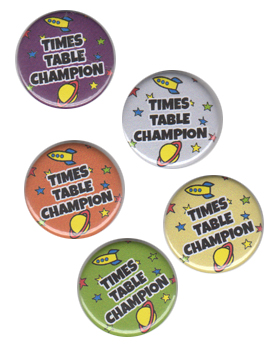 Looking for an incentive to help your pupils learn their times tables?
Why not get them collecting times table button badges?
Kids love badges, they love rewards and they love collecting things so what better than a series of button badges that can be achieved as they learn their times tables?

Our Times Table Champion badges are very popular. They have a space theme to show children that their grasp of multiplication is out of this world and can be printed on any colour of your choice. The set on the right was for a school that wanted five badges to represent five stages of attainment - green, purple, bronze, silver and gold.
Other popular designs include a star badge for each times table from 2 to 12. Each badge features a different colour star so for example the "I know my six times table" badge features a green star, the eight times table badge a red one.
And our
times table star badges
are also available with black stars on colour backgrounds!
And if you have your own design in mind - or want to get pupils involved in the design - we're here to help!
Children wear these times table badges with a real sense of achievement and they are a constant talking point for when they show them off to parents and guardians.
"Wow! I see you know your six times table. Let me test you. What's six times four?"
And remember, if you are ordering on behalf of a school, we do not require payment in advance. If you quote an official Purchase Order number when ordering your badges we can include an invoice when we send your badges payable within 30 days by bank transfer of cheque. Of course you can pay by card when ordering if you prefer.
"The badges are fantastic. The children are incredibly excited to start earning them!"
Amy, The Grove Primary School
more school badge ideas
blog
return to our home page