Our star times table badges are now available in new flavours!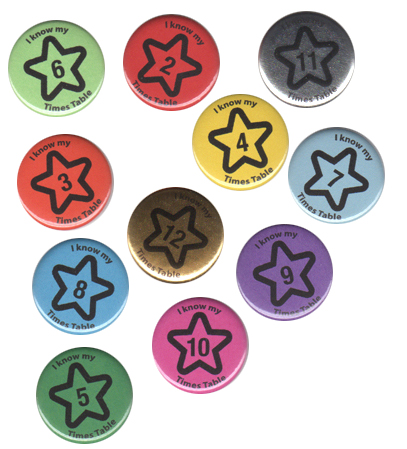 We thought we'd offer a variation on our popular star times table badges and here they are!
The new ones feature black text and a black star on different coloured backgrounds.
So for example the I Know My 3 Times Table is on orange, the I Know My 10 Times Table pink and so on.
What's extra special about this set is that the I Know My 11 Times Table is on a shiny silver finish badge and the I Know My 12 Times Table is on a shiny gold finish badge. The picture on the right doesn't rally capture just how good the metallic shiny finish badges are, but you'll love them!
Normally, metallic finish badges are more expensive than our standard badges, but because we believe children should be rewarded for success, we are currently offering them at the same price as our standard badges ;)
Our original Maths star badges for each times table from 2 to 12 are still available too. Each badge features a different colour star so for example the "I know my six times table" badge features a green star, the eight times table badge a red one.
So you pays your money and takes your pick!
And talking of choice, your badges can be made with our traditional D pin backs or
safety pin backs
.
info@buttonbadges.co.uk
blog
return to our home page