Badges for schools!
We make button badges for schools all over the UK.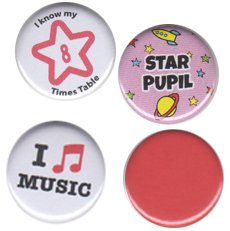 Children love badges and they represent an the affordable option when you are looking for a combination of both quality and price.
We can print any logo or text onto a badge - even drawings that the children have done themselves (it's fantastic to get them involved in the badge design!). We can also help you with basic design at no extra charge - adding text to a design for example. See our
school logo with text badges
for example.
We can also make you badges for prefects, monitors, house captains and so on.

The Community Team badge on the right is a good example of a simple yet effective badge that needed no artwork. The school supplied its logo and we converted it from colour to a black and white image. We added the black text below it and then printed the badge on a bright yellow paper.
Many schools simply require
plain colour button badges
for use as school house badges or for sports day.
The four most popular colours are red, yellow, blue and green, but we also offer orange, purple, navy blue, white, black and dark brown badges for schools with more than four houses (see colour chart for examples).
Need even more colours? We can add a range of pastel colours to the bright ones listed above. Or even really bright orange, pink and green!
We now also supply plain metallic gold, silver and bronze badges - perfect for school sports days and other events. Inspire future Olympians!
Our plain gold, silver and bronze badges are the same price as our standard plain colour badges.
We can also print black onto
metallic finish gold, silver and bronze badges
- again ideal for sports day prizes or reward badges!
Looking for
Maths badges
? One of our most popular range of school badges is for
times table badges
and
number bond badges
. As well as stock designs, we can work with you to produce a design specifically for your school.
We also have
Star Pupil badges
available in a range of colours that use our space theme.
We can also make library badges,
eco badges
, anti-bully badges, all with your chool logo or choice of image.
Another popular choice - our
star badges
with one to six stars on them.
Oh, and
safety pin backed badges
are available as an alternative to our traditional D pin backed 25mm badges at no extra cost if you require them! 38mm, 55mm and 76mm badges all come with safety pin backs as standard.
Please note: If you are ordering on behalf of a school, all we require is an official Purchase Order number. We can then include an invoice when we send your badges rather than you having to pay in advance. Of course you can pay by card or cheque when ordering if you prefer. Any questions? As always info@buttonbadges.co.uk

Check out our ever popular
flag badges
too!
And our "I Love"
school subject badges
!
And our
First World War badges
!
return to our home page
Frequently Bought