Reward success and encourage progress with our Maths badges!

Badges are a fantastic cost-effective way of rewarding success in Maths and can be used to encourage pupils to work towards another level of attainment by offering them the chance to collect a set. Children love to collect things and everybody wants to complete their badge collection!
Please note: If you are ordering on behalf of a school, all we require is an official Purchase Order number. We can then include an invoice when we send your badges rather than you having to pay in advance. Of course you can pay by card or cheque when ordering if you prefer.
Maths badges made to your own design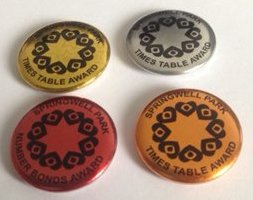 As well as a range of stock designs, we can make Maths badges to your own design, incorporating your school logo for example or childrens' own artwork. We can make them in four different sizes - 25mm, 38mm, 555mm and 76mm.
Multiplication And Division Fact Badges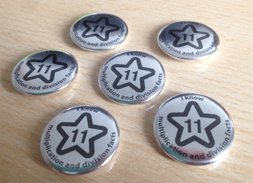 Multiplication And Division Fact badges are available for numbers 2 through to 12, with 11 being a shiny silver and 12 a shiny gold finish. The star design is based on our ever popular
I Know My Times Table star badges
. We can also design your own set of Mulytiplication And Fact button badges. Just ask!
Times Table Champions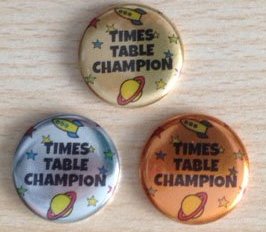 Our Times Table Champion badges are very popular. They have a space theme to show children that their grasp of multiplication is out of this world and can be printed on any colour of your choice. Available in a wide range of colours (including a mixed bag!) 25mm, 38mm, 55mm and 76mm sizes.
I Know My Times Table badges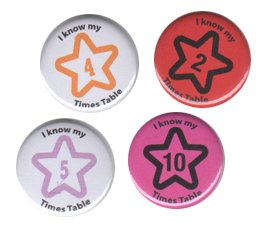 Our I Know My Times Table star badges are available in white with coloured star or with a black star on coloured backgrounds. Badges are available for times tables from 2-12 in sizes 25mm, 38mm, 55mm and 76mm. Number bonds versions also available!
Animal Times Table badges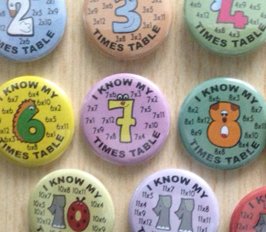 New for 2017 are our
animal themed times table badges
! Again available in 25mm, 38mm, 55mm and 76mm.
Number Bond badges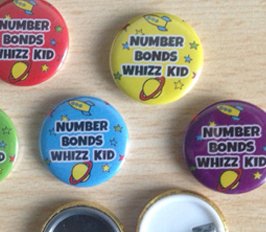 And don't forget our space themed Maths badges are also available for
number bonds
! Again available in 25mm, 38mm, 55mm and 76mm.
Any questions, just drop us an email at info@buttonbadges.co.uk.
return to our home page
Ready to order?
Pick a size!

Choose a size, add the quantity to your cart and let us know what designs you require on our order form.
Need help or advice before ordering? email info@buttonbadges.co.uk

If ordering for a school and you can supply a school purchase order number, we can include an invoice with your badges.


Frequently Bought





Sparkling diamond metallic finish badges!
Click Here
New For 2017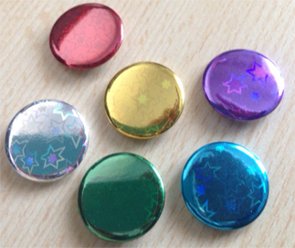 Metallic finish shiny badges with holographic star effect are available in gold, silver, red, blue, green and purple!
find out more