School Pet Show Badges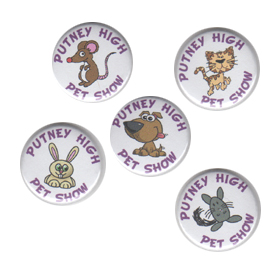 Another set of school badges from our archives!
We've been making button badges for Putney High School's annual pet show for a number of years now and this set of five is one of our favourites. What can we say? Cute gets us every time!
People love to collect things and so badge sets like this prove really popular. Being able to collect all five adds extra spice to a fun day out and gives children something special to remember the event.
More good news. We offer price deals on sets like this.
Rather than having to pay for each design separately, where possible we charge for the total number of badges instead.
So for example, supposing you wanted to order a set of five badges, 200 of each, 1,000 total. You would be charged the 1,000 badge price, not for 5 x 200 badges.
So, how can we help you today? Let us know at
info@buttonbadges.co.uk
More school badges
Blog
return to our home page