Sports Day Badges!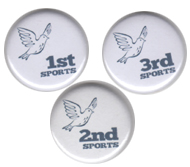 Make your school's Sports Day that little bit special this year by giving custom made button badges as prizes.
On the right is a set of three badges that we made for Highfield Prep School in Berkshire. Each badge features the school logo and the finishing position - 1st, 2nd and 3rd - with the word "SPORTS" underneath. The badges were printed in blue to match the school's main colour on a white background.
Very simple, but very effective too.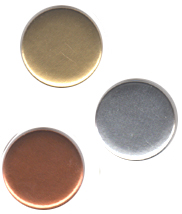 We can provide similar badges for your school using your school logo or indeed any image of your choice.
Also very popular for sports days are our plain metallic gold, silver and bronze badges. With the London Olympics still fresh in a lot of children's minds, and with the Commonwealth Games being held in Glasgow this year, you'll be on to a winner if you hand these out! Because of the metallic paper used in making these badges, we cannot print on them, but can offer matt versions of gold, silver and bronze than we can print with black text or a logo.
Check out our
flag badges
too! Perfect for World Cup football style tournaments!
Any questions? As always
info@buttonbadges.co.uk
Please note: If you are ordering on behalf of a school, all we require is an official Purchase Order number. We can then include an invoice when we send your badges rather than you having to pay in advance. Of course you can pay by card or cheque when ordering if you prefer.
Blog
return to our home page