I Love Button Badges!
And Eric Carmen. Love is all that matters.
When it comes to spreading that love, you can't do better than button badges based on the "I Love NY" logo.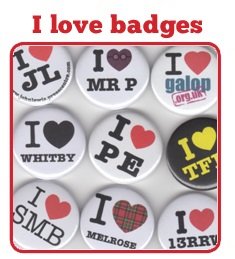 We makes LOADS of these and we can make them for you too.
You don't even need any artwork. We can add any letters or word below the I Love (Heart) for you at no extra cost.
We have a font that closely resembles that used in the iconic New York logo and we have the heart here all ready to go. And it doesn't need to be red! Your heart can be any colour - we've even made a tartan one!
And check out our
I love school badges
below where the heart is adapted to the subject!

Our I Love badges are available in four sizes - 25mm, 38mm, 55mm and 76mm.
PS Also fab for
weddings
, Valentine's Day, proposals.., feel the love, people, feel the love!
Any questions? As always
info@buttonbadges.co.uk
Check out our
blue plaque style badges
too!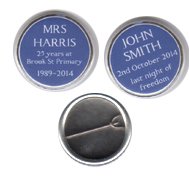 Button Badges

Blog
return to our home page
Frequently Bought


Sparkling diamond metallic finish badges!
Click Here