Plain Platinum Button Badges
We supply plain button badges in a variety of stock colours including a metallic finish platinum. From 25mm up to 76mm you are sure to find the size you are looking for!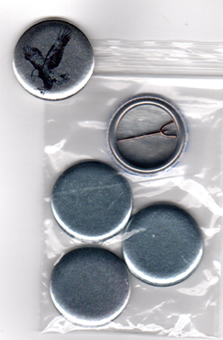 Our range of metallic finish badges has proven really popular, not least our gold, silver and bronze badges that are perfect for awards and rewards.
Then we received a request from St John's Primary School in East London for a platinum badge as a reward beyond gold.
The reason we had never considered a platinum badge before was because platinum is very similar to silver in colour, but we looked at it again to see what we could do to help.
Platinum is a duller metal than silver so that's what we aimed to produce. For the avoidance of confusion, we also suggested printing the school's eagle logo on the platinum badge to not only distinguish it from silver, but to make it that little bit more special.
We were really pleased with the results and so have now added a platinum badge to our range of plain colour badges.
And we can print a logo or text on them too for a small additional charge (see our
printed metallic finish badge page
for more details).
Badges delivered, so what did the school think? "Thank you very much for the badges," said Sue in Admin. "They are superb. Our Head of School was very pleased with them too as it is a new behaviour incentive scheme we are trying."
Job's a good 'un!
Like all our button badges, platinum colour ones are available in quantities of 20 to 3,000 and in sizes 25mm, 38mm, 55mm and 76mm. Feel free to add other colours to your order if you want to - the more button badges you order, the lower the unit price!
If you want a plain badge to be above gold, but are worried plain platinum will be confused with plain silver, another option is to choose one of our
metallic hologaphic badges
.
see our full range of plain colour badges
blog
return to our home page
Frequently Bought




New For 2017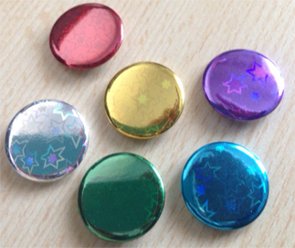 Metallic finish shiny badges with holographic star effect are available in gold, silver, red, blue, green and purple!
find out more